A nationally recognized garden historian, ethnobotanist and heirloom specialist, John Forti blows the dust off time-honored yet underused garden remedies, artisanal foods, and horticultural practices. He enthusiastically helps audience members apply tried and true methods to their modern lifestyles. John teaches with a unique sense of place and historical world-view, which has joyfully engaged audiences with centuries of lifestyle choices, as well as a view to a more sustainable future.
Quite recently, John was appointed Director of Horticulture for the Massachusetts Horticultural Society, the oldest horticultural society in the nation. For twelve years prior to joining Mass Hort, as Curator of Historic Landscapes at Strawbery Banke, John brought international recognition to the living history museum by creating an award-winning Victorian Children's Garden and Hothouse exhibit, Community Garden and Seed-to-Table Programs, a popular daily garden tour program, and a Slow Food Convivium, Slow Food Seacoast. Under John's leadership, Strawbery Banke earned recognition as one of the "Top Ten Favorite Public Gardens" in People, Places and Plants polls.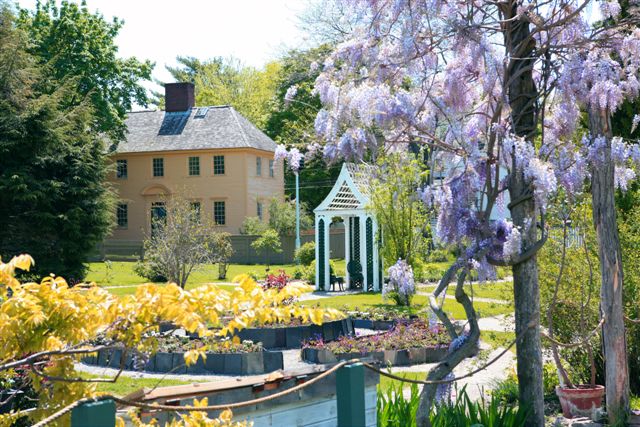 Before coming to Strawbery Banke, John served for twelve years as horticulturist for Plimoth Plantation Museum, where he recreated, restored, and taught from Native American and colonial gardens and Olmsted firm landscapes. He also developed a successful Historic Seeds Program and lecture series, helping the museum become an internationally treasured public garden site.
John is an author, regular radio guest, and contributor to gardening, lifestyle, and food publications and television programs. He serves on the board of the Herb Society of America and lectures at and judges for several spring flower shows.
John lectures nationally and internationally at museums, garden clubs, botanical gardens, horticultural, herbal and historical societies. He regularly consults on historic garden restoration projects nationally and has designed numerous public and private gardens throughout the country.
Recently, he designed an award-winning Victorian children's garden at Strawbery Banke Museum – the nation's first living history children's garden. He has created innovative new Victory Garden programs/exhibits, and won the NH Preservation Alliance award for outstanding achievement for his 100th anniversary restoration of the Colonial Revival Aldrich Garden. He is a recipient of the Victorian Society in America's "Preservation Award," and was a scholarship recipient for Monticello/UVA Historic Landscapes Institute.
In the last year, John has lectured from coast to coast, appeared in two New York Times feature articles, was quoted by Michael Pollan in the national media, and was interviewed multiple times on National Public Radio. He was also sent to Italy by Slow Food USA as one of 5,000 regional delegates from over 150 nations at the Terra Madre or "Farmers United Nations."
He recently branched out to create new media tours (iPhone/cell phone/iPod, Internet) for historic gardens and cultural landscapes in order to reach new and younger audiences. [Strawbery Banke Listen to the Landscape Tour: Sample the Tour, YouTube Trailer, iPhone Download] He has begun work on numerous articles and publications that he hopes will help us learn from the past in order to create a more sustainable future. And, in a nod to current social media trends, John has recently joined Facebook:

The-Heirloom-Gardener-John-Forti